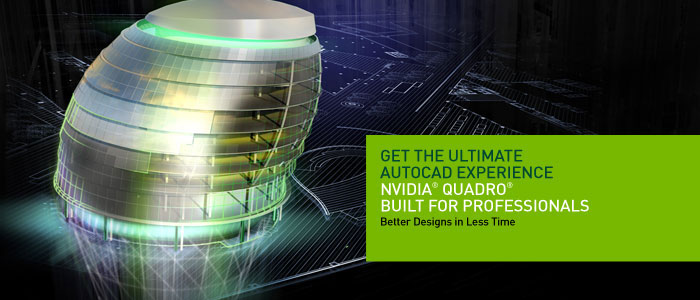 AutoCAD 2011 adds powerful new 3D features and visual styles to help explore your ideas. To take full advantage of AutoCAD 2011, experience superior image quality, and realize true interactive performance, you need a NVIDIA Quadro professional graphics solution. Quadro lets designers dial up the complexity of their designs, visualize them in software and work out any issues before moving to production, thereby increasing productivity and eliminating waste.
Each year, NVIDIA and Autodesk together spend over 2,000 engineering hours to test, certify, and optimize the latest Quadro and AutoCAD solutions. This collaborative development process reduces the likelihood of issues that could interrupt your workflow causing down time.
NVIDIA Quadro is the right choice for professionals, enabling designers and engineers to deliver AutoCAD 2011 projects on time and within budget. So don't settle for less! Get Quadro, the Autodesk-certified and recommended choice for AutoCAD. Autodesk created AutoCAD 2011 to take designs further. Proven Quadro solutions will get you there faster!
To get the latest AutoCAD Performance drivers for Quadro, click here.
For more information on Autodesk system requirements, click here.